Highlights
• Free Mobile Payment App
• Supports iOS, Android & Windows Phone
• Accept Credit Cards
• Accept Electronic Checks
• Encrypted Card Reader
• Online Dashboard
• Email & SMS Receipts
• Signature Capture
• Capture Tips


Your simple, secure mobile credit card & electronic check POS terminal
Mobileauthorize™ is your complete mobile processing solution for accepting credit card & electonic check payments both in and out of the office. Swap meets, street fairs, antique shows, mobile detailing, on-site consultants, taxi cab drivers, tour guides.. the list is endless on who could benefit by offering the convenience of accepting credit cards & echecks on the spot and the peace of mind getting immediate authorization for the charges.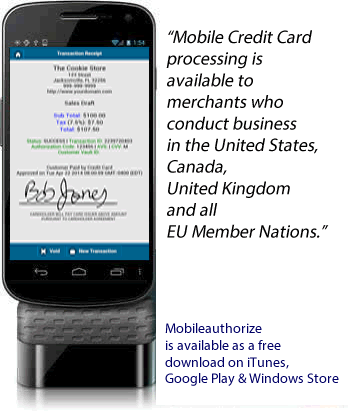 Mobileauthorize offers impressive, revolutionary, yet functional credit card & echeck charging capabilities for the merchant. It combines the convenience and mobility of your mobile device with the power to do business, make sales, and authorize/capture charges anywhere there is a network connection.
Mobile, Internet & Retail Payments
Mobileauthorize™ can accept and process your Retail, E-Commerce and Mobile sales. Let your customers order online and pickup in store. Enhance the customer experience by allowing them to shop they way they want to shop, in store or online. Develop customer loyalty and increase sales by allowing your customers to order online and pick up in store. Traveling... then use the Mobileauthorize™ mobile payment app to service your customers.


Secure Mobile Payments
Mobileauthorize™ will process keyed or swiped transactions using cutting edge hardware encrypted card readers, e-mail and SMS receipts, capture digital signatures,and perform partial or full refunds within the transaction history log. The application is free to download and incurs no additional per transaction fees. Mobileauthorize™ is available for the iPhone, iPad, Android Phone/Tablets and Windows Phone.


Multi-Currency Support
Mobileauthorize™ can process credit card payments in your local currency. Mobileauthorize™ supports USD, CAD, GBP and EU currencies so your customers can pay in the currency they know.


In Use All Around the World
Manage and review transactions, configure account settings, view account statements, download reports, and more through a password-protected website: the Merchant Interface. Need integration with your accounting system? Mobileauthorize™ provides an export feature for easy import as well as our addon module; SyncPay™ for Quickbooks. SyncPay™ for Quickbooks automatically imports your settled Mobileauthorize™ transactions directly into your existing QuickBooks account.


Improved Customer Experience
Improve your customers' experience by speeding up the checkout process: authorize credit card transactions in as little as three seconds.


Get Started
To accept credit cards with Mobileauthorize™, simply complete and return our Merhant Account Application:

• U.S. Merchant Account Application
• Canadian Merchant Account Application
• UK Merchant Account Application
• EU Merchant Account Application
• Latin America Merchant Account Application
• Asian Merchant Account Application
• International (All Other Countries) Merchant Account Application
• US High Risk Merchant Account Application
• International High Risk Merchant Account Application

For more information Contact Us. View Pricing.